and may is her birthday month!
she doesnt require a whole month, but id give it to her. in fact, on her birthday, she was in a c.e.r.t. class to learn what to do when the 'big one' hits the salt lake valley. you would NEVER see me doing something so...useful...on my birthday!
this year, she got the idea to join the community garden.
so i got the idea to make her some markers for her garden! (and no-i came up with some of the ideas for this, but not the whole idea for this. see
the flowering dogwood
for the inspiration)
then i got to use my
cricut
again! i used brown cardstock and make my 'm's (for summers last name) 1".
kill
grow!
i had found this little display bowl at savers for 99 cents. the other side says 'simplify' on it. (the stickers were still on this, it was originally $15!)
i used tissue paper from a pattern as regular tissue paper and the spoons fit nicely inside.
so happy birthday month summer
! enjoy being able to know what
died
you are growing in your garden!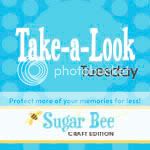 im linking to the little brown house, santas gift shoppe